There are lots of great websites on the internet about Spain and the Costa del Sol. We hope that if you have made it to our website, you will be able to find most of them. However, we would like to guide you through the journey from booking your accommodation to planning your trip and finally your holiday.
Malaga
Is a cosmopolitan city in which you will most likely land at the airport. It is less than 40 km and about a 30-minute drive from your accommodation. You can take the toll motorway AP - 7 (the fee is 5 Euros and can be paid by card at the automatic gate on the motorway) or the non-toll motorway A - 7, where, however, especially in the summer months, you risk being stuck in traffic jams.
Our favorite car rental company is Marbesol. But we can also recommend Wiber Rent a Car.
Cabopino
Marks the part of Marbella in which our apartment is located. It is especially known for its quirky harbor with a variety of restaurants and beaches, which are according to the locals the best far and wide. You have the advantage of reaching it in 12 minutes on foot and not having to spend precious time trying to find a parking spot.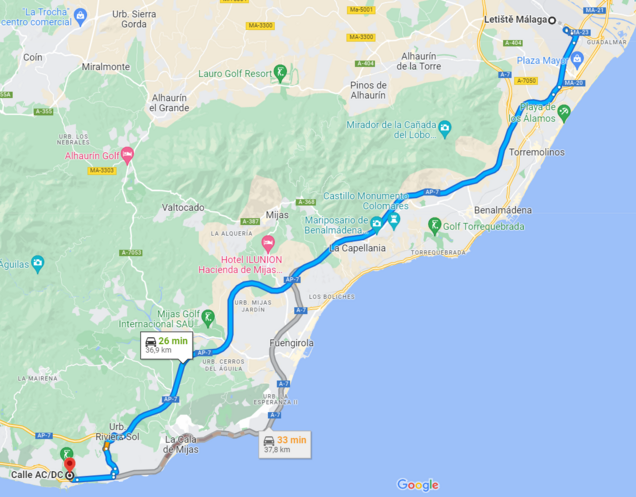 Below you will find links to places you should not miss near your accommodation.
Restaurants:
Cabo Pizza
Restaurant right below your window (They do everything from breakfast to dinner or just a snack)
Da Bruno
Traditional Mediterranean cuisine (popular restaurant just 5 min. walk away, which also runs a small cheese, ham, and wine shop)
Andy´s Beach Restaurant & Bar
Drinking sangria while watching the sunset over the sea is a sight to behold.
Spain is a beloved destination for people who love good cuisine. So, it's probably no surprise that there are literally dozens of restaurants and bars to try in the surrounding area. We'd love it if you shared your experiences with us so we can pass them on.
Trips around the area:
Aqualand Torremolinos
Water slides and fun for the whole family just half an hour's drive away.
Aventura Amazonia Marbella
The largest theme park in Andalusia is just a 4-minute drive from the apartment.
Dunas de Artola o Cabopino
A nature park and attractive hiking trail just 10 min. walk from the house
Gibraltar
The iconic hill on the territory of the United Kingdom located just 20 km from Africa. This trip is well worth it and is only an hour's drive from our apartment.
Marbella
A 12 min. drive away is a city with everything you can think of. The historic center with its many restaurants is undoubtedly worth seeing. Our favorite, for example, is Taberna La Niña del Pisto. You can park for example in the Mercado de Marbella.
Mijas Pueblo
One of Andalusia's most remarkable "white villages". In this small village less than half an hour's drive away you will see typical white Andalusian houses, narrow cobbled streets, amazing panoramas and meet the most famous inhabitants: donkeys.
Ronda
You've been to the sea, now it's time for the mountains! A full day trip and lots of photography awaits you, combined with a visit to one of the most beautiful villages in Spain. When you stand at the top of the stone bridge, you'll understand that the less than an hour and a half drive was worth it.